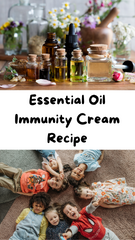 When we first started using essential oils it was so my oldest would sleep. He was having night terrors and keeping the whole house awake. I was really tired and desperate. So, I decided to give essential oils a try and low and behold they worked! He slept through the night for a whole week and kept sleeping from then on. We jumped in with both feet and I decided to try them for their immune system as well. 
What I quickly realized was that putting all those oils on their feet every night was a task because they had to stay still, and it took a while and really it was a mess. So, I decided to make a cream and apply them all at once! This might've been the lazy way BUT it became another tool in our tool chest of keeping our kiddos healthy along with our Elderberry Syrup!
What we noticed was a few things. The kids slept, it got rid of a wart on the bottom of one of their feet that I didn't know was there, and they started being markedly healthy with both products in consistent use! We haven't stopped using it since then!
Here's the recipe:
8oz Coconut oil

10-15 drops thieves EO

10-15 drops lavender EO

10-15 drops peppermint EO

10-15 drops Frankincense EO

10-15 drops Eucalyptus EO

Melt coconut oil, add oils, swirl around, and let harden in the fridge. Then use nightly on feet or chest and back or all three!
If you'd like this recipe sent straight to your inbox you can get it free here: Immunity Cream Recipe and if you'd like more of our tried-and-true essential oil recipes check out our e-books here: Essential Oil Recipe E-books.