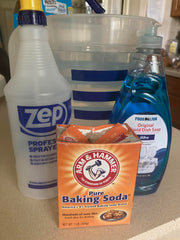 Blight is any of various plant diseases whose symptoms include sudden and severe yellowing, browning, spotting, withering, or dying of leaves, flowers, fruit, stem, or the entire plant. Basically, you don't want it on your plant. 
I came across a farmer on Tik Tok that I really love. He gave this great concoction for helping fight blight that includes baking soda, dish soap, and water. It makes the leaves more alkaline and helps protect against and stop blight in its tracks! 
See the video below for more of what baking soda does for plants and here's the recipe for the spray bottles!
Blight/Pest Repellent: 
1 tbsp baking soda
1/2 tsp dish soap (blue kind)
1 gallon of water 
Spray on crops
Here's the video too. He's a great one to follow if you love gardening!