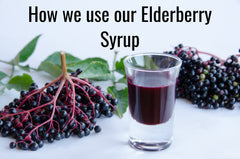 I get asked everyday just about how we use our elderberry. I have to say it's probably the easiest thing I have ever used to keep my body healthy. 
It's simple. We take a tablespoon every day for the adults and a teaspoon daily for the kiddos. My husband takes it twice a day during the season changes and he tells me that it helps him considerably when we are trucking through pollen season. 
If we feel like our bodies are changing and need some extra help to stay healthy we will bump up taking it to every 2 hours roughly. 
The thing that you have to remember about nature is consistency matters. Elderberry has long been studied for one specific season and then during the other times of the year it's put on the back burner. Honestly, we know though that sickness never leaves. There are bugs flying around at all times of the year. 
What our family has experienced and, honestly many other families have experienced the same thing, is that when we take at least one tablespoon a day everyday there is overall less sickness in all times of the year. 
This has truly been a blessing to us and so many and we are so grateful to be able to continue helping others see how consistency, though tough to get in the habit, can really change your day to day health.