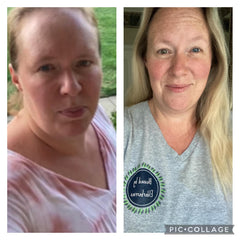 The left was me back in October of 2020. I was tired. Angry. Had about the shortest fuse ever and we were decorating for Halloween. I LOVE decorating it's my absolute favorite time of year but the thing was I was my absolute heaviest. I felt horrible.
I had a friend who was drinking ketones and I had watched her for months because I doubted that a little packet of ketones could actually do anything for me. It's powder...what's it really going to do? But the moment I decided to try them I was DESPERATE for change. I wanted to love myself and be the mom my kids deserved.
As soon as I started taking the packets I noticed a difference in my energy levels. I was feeling better and able to do more. Even took all 5 boys on a bike ride by myself! That was HUGE! I noticed my mood was better and my fuse wasn't as short with my kids.
Fast forward to me on the right I am actually 32 weeks PREGNANT with baby number 6 a little over a year later. I took this picture and compared them and couldn't believe the change.
Now this is my AFTER baby 6. I am just so grateful for these little packets of powder and how they have helped me not only lose the fat but also feel better, focus more, have more energy to take care of my kids and run my businesses, and just love me more.
if you want to try them I suggest the bundles to get started. Grab them here at https://kristenfulton.shopketo.com/tag/bundle-save.
Feel free to message me with questions here: https://www.facebook.com/kristen.fulton1