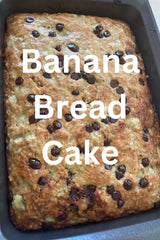 Once upon a time I bought a bunch of bananas and with that particular bunch the kids decided they hated bananas. So, we ended up with 5 large over-ripe bananas that needed to be made into banana bread. I didn't feel like putting a ton of effort into it, so I just threw them together with some ingredients and what came out of it was literally the best banana bread I think I've ever tasted. 
Ingredients:
5 large ripe bananas
1/2 cup of butter (melted)
1 egg and 1 egg yolk (beaten)
1 1/4 cup of sugar
1 1/8 teaspoon baking soda
1 1/8 teaspoon baking powder
1/4 teaspoon salt
1/4 teaspoon nutmeg
1 1/2 teaspoon vanilla
2 1/4 cups of all-purpose flour
Your choice of toppings from chocolate chips, walnuts, raisins. Whatever you'd like.
9x13 baking pan 
Directions: 
Pre-heat oven to 350 degrees. 
Mash the bananas with a fork, they can still be lumpy. In fact, lumpy is good for gooey banana bread. Mix in melted butter.
Add eggs, sugar, vanilla and mix together.
Sprinkle nutmeg, baking soda, baking powder, and salt to the mixture. 
Add flour and stir with a wooden spoon until just mixed. 
Pour mixture into a greased 9x13 baking pan (add topping on top) and bake in the oven for 20-25 minutes. Insert a knife into the center of the bread and if it comes out mostly clean (lumpy bananas may come out on the knife) then it's done. If it's not done check in another 2-3 minutes. 
Let cool and enjoy!
Let us know if you try it! If you want more recipes grab our Meal Plan with 28 recipes!